[Home]
[Bolton]
[Index]
[Gallery]
[Webcam]
[Updated]
[Walk]
[Drive]
[Links]
Welcome to Bolton!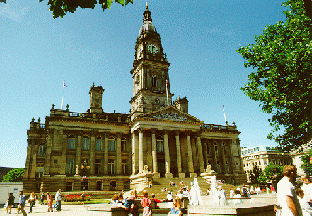 Bolton is a large town in the north of England, 53 degrees 34' North 2 degrees 26' West. From here you can learn more about the town, the other seven townships that make up the borough, brief social and industrial history, and what life is like today. You can also take a closer look at the town by going on a virtual walk. You can also start to take a virtual drive. There are over 250 pages, and over 1300 pictures, 20-50k GIFs with high quality JPEGS. There are also a number of links to other web pages relevant to Bolton.

These pages will only have minor updates from now on and will remain as an online historical reference, particularly for old images. Newer images can be viewed in modern satellite and mapping imaging.
For your personal contributions to Bolton, see http://www.boltonrevisited.org.uk/

Site map
Bolton is the main of eight townships within Bolton Metropolitan Borough covering 140 square kilometres (54 square miles), the remaining townships alphabetically are Blackrod, Farnworth, Horwich, Kearsley, Little Lever, South Turton, and Westhoughton.

If the webcam has brought you here, perhaps you'd like to see some history of the bolton webcam.

Also within the Borough are other areas or districts of interest, the following are documented in these pages: Egerton, Jumbles Country Park, Last Drop Village, Barrow Bridge, Middlebrook, Bradshaw

Nearby places to the Borough documented here are: Belmont, Bury, Edgworth, Manchester, Radcliffe, Rivington, Winter Hill, Wigan, and Worsley.

Seasonally, there is an updated set of pictures of Bolton at Christmas.

For leisure time and some places of interest, here's a general list of things to do and see in the borough, including parks.

Quiz: What are these people doing?

The Hall Of Fame lists people, TV and film, events and places from the Bolton area.

Some older views of Bolton are available in the Bolton then and now page. Additional pages of old pictures are available in section 1, section 2, and section 3 are now available. Another set of old picture pages starts with Old Derby area page 1.

A moderated guestbook is online.

Can you help?
Check out the research page for details of information wanted and current research.
Linking to this site?
Links to this site are welcomed, please use the URL http://www.bolton.org.uk/ as other pages and names may be changed.

These pages are active, that is, new pictures will be added, new locations and more information. Keep dropping by, Bolton is full of surprises! I live here, and I've found a few doing this!


The Bolton Directory, a comprehensive listing of local relevant links and businesses, as well as local information, http://www.nw-england.co.uk/bolton/





These "every browser friendly" pages are maintained by Nic (homepage), email webmaster Please report any bugs and include detail of your browser name, version and platform. They are served by Apache under linux by The Top Web Services at http://www.thetop.co.uk/.
Please support the "Any browser" campaign, located at http://www.anybrowser.org/campaign/
This details how these pages are maintained. This tells you why I did it!.
Images contained are subject to copyright and are for your personal use only. See acknowledgements for details. Please read the disclaimer.
[Home] [Bolton] [Index] [Gallery] [Webcam] [Updated] [Walk] [Drive] [Links]