[Home] [Bolton] [Index] [Gallery] [Webcam] [Updated] [Walk] [Drive] [Links]
Blackrod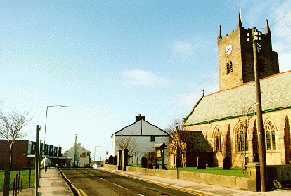 This village is set on a hill and lies some 10 km (6 miles) west of Bolton. Blackrod comes from two Old English words, 'black' (or bleak), 'rod' clearing in the forest, rod may also mean Holy Rood (Cross of Christ). It is said to have begun in Roman times, when soldiers cleared a patch of open ground to give them a strategic view of the forests where it was thought the Britons were hiding, and General Julius Agricola (Roman governor of Britain 77 to 84 A.D.) erected a station on the Roman road between Mellor at Blackburn and Coccium, a fort believed to be in Wigan. The earliest written record states that the Manor of Blackrod was held by William Peverel in 1125.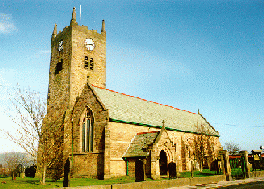 A church is the earliest recorded building in 1338, dedicated to St. Katherine (spelling first documented) and of Norman design. A lot of the Elizabethan work can still be seen, but the parish church was enlarged in 1776, galleries added in 1837, the roof renewed in 1894, the chancel rebuilt in 1905 and nave in 1911. During this time the spelling has changed to Catherine, and now the current Katharine. There are six bells in the west tower, cast in 1776, renewed in 1922, and the clock was illuminated in 1947.


The main industry of the town was coal mining (7 pits in 1869), agriculture (30 farms in 1902) and a weaving mill (built in 1906), but today only a few farms remain with the pits all closed. Today it is mainly a residential area, but still retains a Town Mayor and Town Council. The M61, part of the national motorway network between the M60/M62 (Manchester) and the M6 (Preston) was opened on November 28th 1969 by Fred Mulley, Minister of Transport.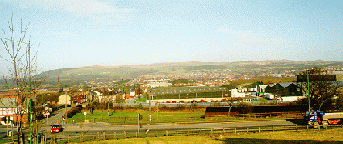 This is a view north from Tanners Brow, Blackrod, of Winter Hill. The immediate foreground shows the A6, a road between Lancaster and London. Behind that is some of the local industry, and the town of Horwich. East of here is Scot Lane End.


North of here is Grimeford.

DISCLAIMER: Errors and Omissions Excepted.

[Home] [Bolton] [Index] [Gallery] [Webcam] [Updated] [Walk] [Drive] [Links]