[Home]
[Bolton]
[Index]
[Gallery]
[Webcam]
[Updated]
[Walk]
[Drive]
[Links]
Samuel Crompton 1753 - 1827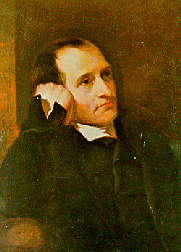 Samuel Crompton born December 3rd 1753 on a farm at 10, Firwood Fold, to George and Betty (nee Elizabeth Holt of Turton) Crompton, was the inventor of the Spinning Mule. Later the family moved to, and his father was caretaker at Hall'i'th'Wood but he died at the age of 37. Samuel had two younger sisters born to Betty and George. Samuel was educated at "the school of Mr. Lever in Church St." and was put under the then well known master William Barlow. Samuel was 15 when he started working on a spinning jenny at Hall'i'th'Wood. Spinning was the family occupation and Samuels' mother needed a certain amount of work each day. Samuel, frustrated at the soft yarn that frequently broke, spent his spare time combining Hargreaves' spinning jenny and Arkwrights' water frame. A solitary person, he also developed a taste for music and he made himself a violin. After 5 years working in secrecy from machine wreckers, the Spinning Mule was born in 1779. It was originally known as the "Hall'ith'Wood Wheel" or "Muslin Wheel" until it took the name of the "Mule". However, Samuel lacked the finance to patent the machine.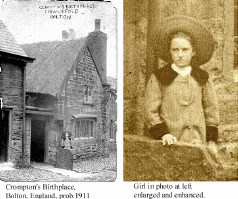 39k GIF 188k JPEG Crompton's birthplace c1911 by permission
Samuel married Mary Pimlott (or Pimbley) from New Heys Hall near Warrington, he met her when she moved to Turton, when her father died, where she was a spinner. They married at Bolton Parish Church on 16th February 1780. It was around this time when many tried to learn of his secret, but notably Richard Arkwright. He knew he could keep his secret no longer, and a number of manufacturers agreed to subscribe funds to him as reward for improvements to spinning. However he received very little in actual monies, in fact just £60. He also had made for him a silver watch, paid for by George Hodson of Bolton for five guineas.
Sometime before 1785, he moved to Sharples with his son George, born January 8th 1781 to a farm where he kept cattle and also continued to spin
He spent the rest of his life trying to gain redress for the prosperity brought to the industry which was a five fold increase in production to Lancashire's textile manufacturers. A petition brought to Parliament on June 24th 1812 resulted in £5,000 which cleared some debts outstanding from a failed bleaching works in Darwen. He moved to 17 King Street in Bolton in 1791. He had a total of 8 children with his wife, but she died on May 29th 1796, and two youngest died with sickness during the next two years. He died at his home on King Street in Bolton, on June 26th, 1827 a poor and broken man.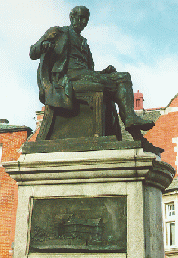 This statue was erected by public subscription, and unveiled September 24th 1862 in honour of his contribution to Bolton's industry. It is situated in Nelson Square.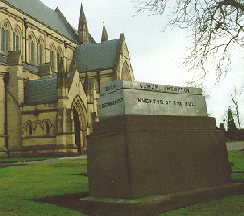 The gravestone reads: Beneath this stone are interred the mortal remains of Samuel Crompton, of Bolton, late of Hall i'th' Wood, in the township of Tonge, inventor of the Spinning Machine called the Mule; who departed this life on the 26th day of June 1827, aged 72 years. "Mors Ultimo Linea Rerum Est."

The translation of the Latin is "Death is the last boundary of human affairs". In 1861, local textile workers paid for this granite monument which was placed over his grave, which is in St. Peter's graveyard.

Family History Information
Due to the number of family history enquiries I would be grateful if someone could provide perhaps a family tree details in RTF format (preferably). Under consideration is on this page linking up all family line members, please send me a note to webmaster if you would like to appear here as a relation of the Cromptons.

Until a separate page exists, all the entries for the Crompton family appear in the guestbook.

Family history can be researched by http://www.mlfhs.org.uk/

Go to Nelson Square on the virtual walk

Go to St. Peter's on the virtual walk

DISCLAIMER: Errors and Omissions Excepted.

[Home] [Bolton] [Index] [Gallery] [Webcam] [Updated] [Walk] [Drive] [Links]