[Home]
[Bolton]
[Index]
[Gallery]
[Webcam]
[Updated]
[Walk]
[Drive]
[Links]
Deansgate junction with Mealhouse Lane and Bridge Street
Go into Bridge Street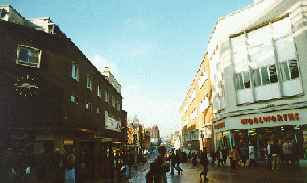 This will take you towards the Market Hall and Market Place which you may go inside, and ultimately leads to the former Little Bolton town hall and St. George's Road.


Go east along Deansgate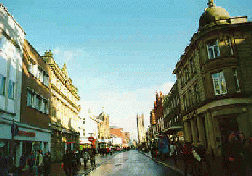 Taking you towards Churchgate (the tower of St. Peter's can be seen) and the junction with Bradshawgate. On the right is the former Midland Bank (now HSBC), on the left is Woolworths, beyond that the National Westminster Bank, in the building formerly used by the Bank Of Bolton.


Go west along Deansgate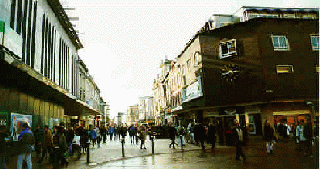 Leading to the junction of Oxford Street and Knowsley Street.


Go down Market Street into the Market Hall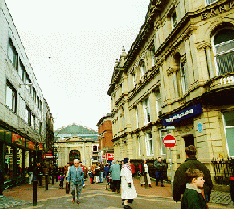 This will take you into the Market Hall and Market Place. The Royal Bank of Scotland is on the right, in the centre distance is the entrance to the Market Hall.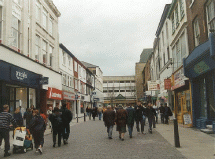 29k GIF 72k JPEG Market Street towards Hotel Street April 2000
This view is towards Hotel Street of market Street. Note the little buggy on the left which is for hire from the Market Place.





Go into Mealhouse Lane and Hotel Street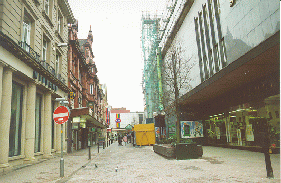 Building work is taking place here for a store, Marks and Spencers. This is one of two stores they have in the town, they are adding a third (top) floor to this store, which has ladies fashions and food. From Mealhouse Lane, you can get into Shipgates Shopping Centre or Crompton Place, and Hotel Street, leading into Victoria Square.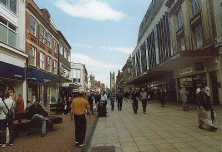 30k GIF 134k JPEG Deansgate view east to Mealhouse Lane Summer 2000
This view is between Market Street and Bridge Street Mealhouse Lane.


You may also go back the way you came by hitting your browsers BACK button.

Please email the webmaster to request additional depth, detailing what you want to see.

A full index is available to all these pages.

DISCLAIMER: Errors and Omissions Excepted.

[Home] [Bolton] [Index] [Gallery] [Webcam] [Updated] [Walk] [Drive] [Links]