[Home] [Bolton] [Index] [Gallery] [Webcam] [Updated] [Walk] [Drive] [Links]
Computer room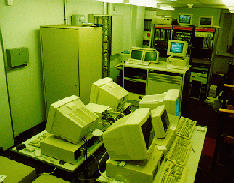 These pages started life here before they were moved. HOLLY is a Digital Equipment Corporation Alphaserver 2100. Its main use is for playing audio CD's for the operations staff. Oh, and it also serves the Institutes PC network over Pathworks.
Here's a live camera in the computer room, you may be lucky and see someone working... Its recently become fairly famous for its pigs, and gets quite a few regular visitors
It has not always looked like this, here's a potted history of computing at Bolton Institute.

DISCLAIMER: Errors and Omissions Excepted.
[Home] [Bolton] [Index] [Gallery] [Webcam] [Updated] [Walk] [Drive] [Links]